Chart No.1
Nautical Chart Symbols and Abbreviations

Coil bound paperback, 8.5" x 11", landscape, 125 pages, color graphics. 13th edition, April, 2019. shipping weight 1 lb.

$14.95 ...item# 1869
---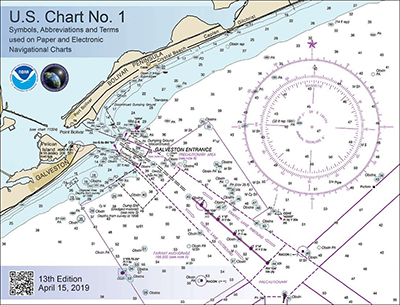 Chart No. 1
Please note there is also a complete, electronic version of this publication online at no charge from NOAA. It is a 130 MB pdf file.

All vessels should have access to this information underway. A printed copy is likely the most convenient for practical navigation, but either could be used for study.

See also our related text that focuses on the symbols and use of electronic charts: Introduction to Electronic Chart Navigation.