Captain James Riley's original Narrative

Capt. James Riley's sad adventures in the Sahara Desert after his 1815 shipwreck on the west coast of Africa, about 150 miles southeast of the Canary Islands.


$29.00 ...item# 1728
---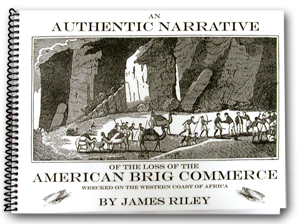 Click for readable title page
Originally published in 1817, this book is an exact unedited reproduction of the 1850 edition, which was a "best seller" in it's time, often referred to by Abraham Lincoln, because it documented a not uncommon case (in that part of the world) of a white-skinned sea captain and his crew being enslaved, traded, sold, and abused by dark-skinned Arabs, which made him even more sensitive to the atrocities of slavery of any kind.

This book has been re-produced from an original edition, with every page hand scanned. An image of it can be seen below.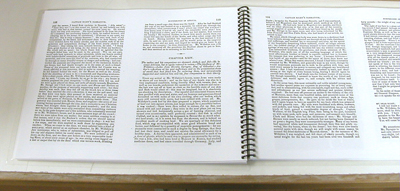 A trade paperback version of this work was published in 2000 by Lyons Press, and titled Sufferings in Africa. That book is readily available. It describes itself as an "edited version" of the original. It is described by Dean King as "The abridged edition... unfortunately filled with typographical errors." Elsewhere he states these errors are confusing and elsewhere he states that "we have to do with this book if we want the Captain's story in his own words." We do not know how confusing those typos might be, but we do know that the last sentence is not right any more, because now we offer the full text in a readily available format at a modest price.
Dean King is the author of the best seller Skeletons on the Zahara (Little, Brown, 2005, $14.95), which is based on two original texts (and much other research). One of the texts is the book we publish here in full as an ebook. The second is from another crew member who survived the ordeal, Archibald Robbins. Many mariners will recognize Dean King as the biographer of Patrick O'Brian.
For those who might be interested in the present-day conditions in the region of Captain Riley's misadventures, do an Internet search on "Western Sahara."
Recent news stories on this adventure can be read in Issue 21 of our Newsletter.
We have also made an ebook of the only other authentic account of the adventure, called Robbin's Journal.