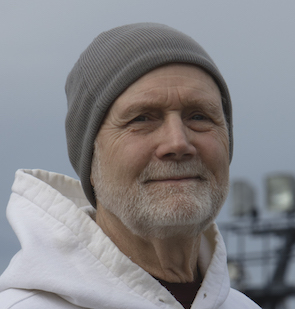 David Burch is the author of the courses and director of the school. He has more than 70,000 miles of ocean experience ranging from the Arctic ice edge to Tahiti and Australia in the Pacific and from New York to Panama in the Atlantic. He has sailed across the Pacific to Hawaii ten times, three times winning the Victoria to Maui yacht race, and in 1984 setting the elapsed time record for that passage for vessels under 38 feet long (the record lasted sixteen years, but was superceded in the 2000 race). In powerboats, he delivered a 65-foot fishing vessel from New York to Seattle, via Panama and has made numerous coastal deliveries between WA and CA, AK, and Mexico. He navigated the only American entry (72-foot Cassiopeia) in the storm-ridden '93 Sydney to Hobart yacht race and has since navigated that vessel on the '96 Vic Maui and Swiftsure Lightship Classic when she won first overall in the latter.

He is the author of fifteen books on marine navigation and his magazine articles have appeared in Cruising World, Ocean Navigator, Sailing, and Sea Kayaker. His column "Burch at the Helm" appeared in BlueWater Sailing magazine from 2009 to 2015. His books include Radar for Mariners; Emergency Navigation; Modern Marine Weather; Fundamentals of Kayak Navigation; The Barometer Handbook; How to Use Plastic Sextants. His textbooks and workbooks on Inland and Coastal Navigation and on Celestial Navigation are used by numerous schools, nationwide. A full list of books is at Amazon Author Central.

His work has been recognized with the Institute of Navigation's Superior Achievement Award for outstanding performance as a practicing navigator, and by a USCG citation for his successful weather and vessel performance analysis used in a search and rescue operation. In February, 2011 he was awarded Fellow grade in the Institute of Navigation. In May of 2011 he named a Fellow of the Royal Institute of Navigation in London.

On the academic side, he is a past Fulbright Scholar with a Ph.D. in physics. Looking ahead, his goal is to sail the Northern Sea Route over the top of Russia. The trip has been planned in much detail for many years, but still hangs in limbo, waiting the proper conjunction of events...which are sneaking up on us.

From 2005 to 2013 he served as the editor of the quarterly newsletter of the Foundation for the Promotion of the Art of Navigation.

In 2006 he had the pleasure to devote his summer to his friends and students of the OAR NW rowing team as they won the Great North Atlantic Rowing Race and earned a place in the Guinness Book of World Records for being the first row ever across the North Atlantic (New York City to Falmouth) that actually arrived at their intended destination. They demonstrated remarkable seamanship in the face of a hurricane passing directly over them, among other challenges that would have stopped any lesser prepared team. From our perspective, safely here in Seattle, it was an exercise in the latest weather routing technology applied to the most fundamental of craft.

In 2016 he assisted the MAD DOG Racing Team with navigation, weather, and routing preparation, leading to a new (remarkable) record of 3 days and 20 hr in the Race to Alaska (Victoria BC to Ketchikan, AK) in a 33-ft catamaran.

He has developed several free services for mariners including starpath.com/shipreports and starpath.com/barometers, and coordinated navigation and weather training of deck officers on Navy warships and USCG Icebreakers, and a winning women's team of inner island Hawaii racing canoes.

2015 activity included all new revisions to the Coastal Nav and Celestial Nav textbooks, the design of an electronic barometer now used by NWS VOS ships and sailors worldwide, and presentation of the 2015 Transpac Yacht Race Marine Weather Seminars in LA.

New products in 2016-2017 included Introduction to Electronic Chart Navigation and an online GPS simulation service Starpath eNav Trainer in collaboration with Lin Ci Brown. His latest books from 2019 include GPS Backup with a Mark 3 Sextant (now the textbook for ASA 117 Basic Cel Nav) and the Third Edition of Modern Marine Weather, a major update, and Use of the Air Almanac for Marine Navigation.