American Practical Navigator, Bicentennial edition.

Bowditch's American Practical Navigator, the bible of marine navigation. Special Starpath Bonus: Includes interactive CD

"Two compasses, two copies of Bowditch's American Practical Navigator, and two quadrants - the probable instruments of our salvation."

...according to Owen Chase, first mate of the whaling ship Essex, which sank after being rammed by an enraged sperm whale in 1820, referring to the equipment he managed to salvage before the ship went down. From In the Heart of the Sea: The Tragedy of the Whaleship Essex by Nathan Philbrick. This true life tragedy was the inspiration for Herman Melville's Moby Dick. What you see below is the latest rendition of this classic American encyclopedia of navigation which has been guiding navigators since the early 1800's - it now, of course, includes all the latest technology as well as the traditional methods of navigation.

$49.95 ...item# 1807print
---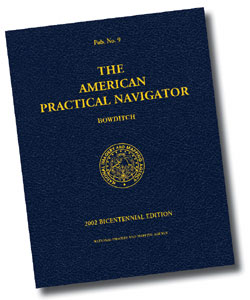 8.5 x 11 inches, 877 pages, Hardcover with interactive CD.
[Table of Contents] [NEW Bowditch Plus! V.4]
This monumental reference work commonly referred to as "Bowditch," has been continuously updated since it was first published in 1802. During the last 200 years over 75 editions, or a million copies have been published. This new Bicentennial Edition covers the latest advances in electronic navigation and digital charting technology. It also covers traditional navigation like celestial, and piloting and dead reckoning. Bowditch contains numerous tables which have been valued for years by practicing navigators. It is carried on the bridge of every U.S. Navy ship.

This is the latest edition of Bowditch available.

The included CD has a complete indexed and book-marked pdf version of the book along with many other features such as calculator versions of the many tables that occur in the text. Instead of table interpolation, just type in the values and get out the exact values you need.